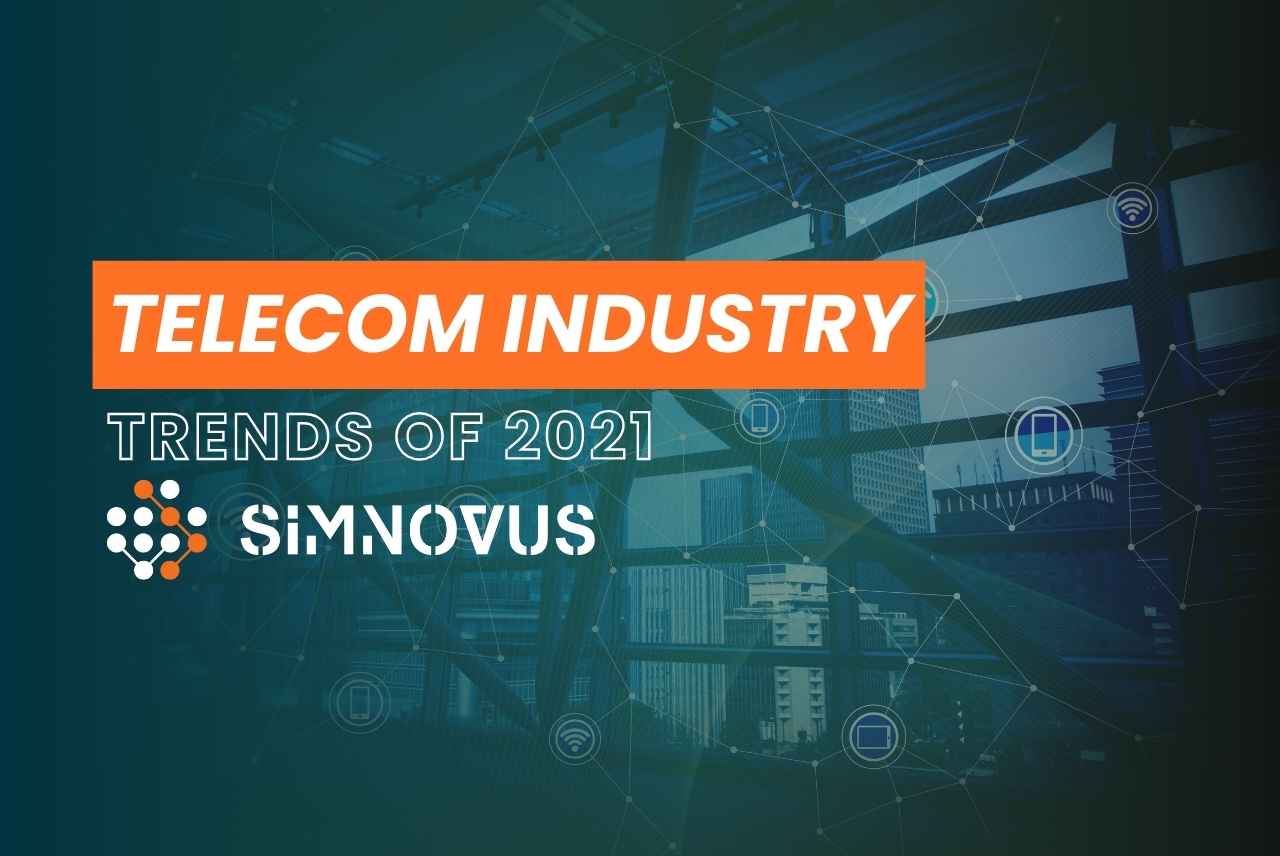 2021 Telecom Trends – Simnovus
In 2020, COVID-19 drove a shift to remote work and an increase in mobile data, voice traffic, and residential broadband. The telecom industry responded to this challenge with several operational improvements to ensure the user experience stayed positive.
But while 2020 was about operational improvements, 2021 will be about disruptive technologies. The industry is investing in these technologies and several new trends are shaping up.
Trends That Will Transform the Telecom Industry
OpenRAN Architecture Will Mature
Unlike conventional radio access networks (RAN), open radio access network (OpenRAN) architecture enables network operators to use vendor-neutral software and hardware components. In 2021, OpenRAN will continue to gain traction in a major way. Here is an interesting blog on the benefits of OpenRAN.
More 5G Networks Deployment
In 2021, many more 5G networks will be deployed. 5G will transform the network experience of consumers by delivering ultrafast speed and ultralow latency. At the same time, 5G will also boost Internet of Things (IoT) by facilitating massive machine-type communication. New services are being rolled out with 5G and this will accelerate in 2021.
AI and ML for Network Edge
5G will act as a medium to drive the integration of artificial intelligence (AI) and machine learning (ML) into the network edge. The next-generation wireless networks will leverage AI and ML to forecast end-user distribution, predict peak traffic, and enhance network capability. The ML algorithms will make it easier for telecom companies to implement network slicing and beamforming. AI and ML will create opportunities for telecom companies to boost network experience and curtail network cost through automation. AI-based communication will further lead to the development of smart cities by facilitating decision-making based on real-time data.
Mobile Edge Computing (MEC)
The industry will leverage edge computing to bring data storage and computing closer to the end-users' devices. In addition to reducing latency, edge computing will speed up the processing of real-time data collected and transmitted through connected devices.
Next-Generation IoT
According to SecurityToday.com,

"By 2025—more than 75 IoT devices billion will be connected to the web"
The disruption caused by COVID-19 pandemic made several enterprises verticals invest in IoT. Also, the demand for smart home devices surged in 2020. The ultrafast speed and ultralow latency enabled by 5G will boost IoT by making connected devices exchange real-time data almost instantly.
Smart City 5G Adoption
In addition to boosting IoT, the mass-scale implementation of 5G will encourage many policymakers to invest in 5G for smart cities. The 5G telecom operators have to act as smart connectivity providers to meet the needs of smart cities. But they have to address a new set of challenges proactively in 2021 to play a key role in the development of smart cities.
Network Footprint Expansion
The network will continue to expand driven by remote work and remote learning. Operators will keep expanding the already-established network as well as upgrade the existing network to leverage 5G RAN and facilitate mass-scale 5G implementation.
Diversified Ecosystem
In 2020, leading network operators, device makers, and chip manufacturers formed the Open RAN Policy Coalition with the aim to keep wireless technologies like 5G open and interoperable. The members of the coalition have already launched projects and announced plans to facilitate the designing and implementation of modular telecom networks that do not depend on a single vendor. In 2021, more network operators are expected to come together, join such alliances, and form new alliances to adopt disruptive technologies.