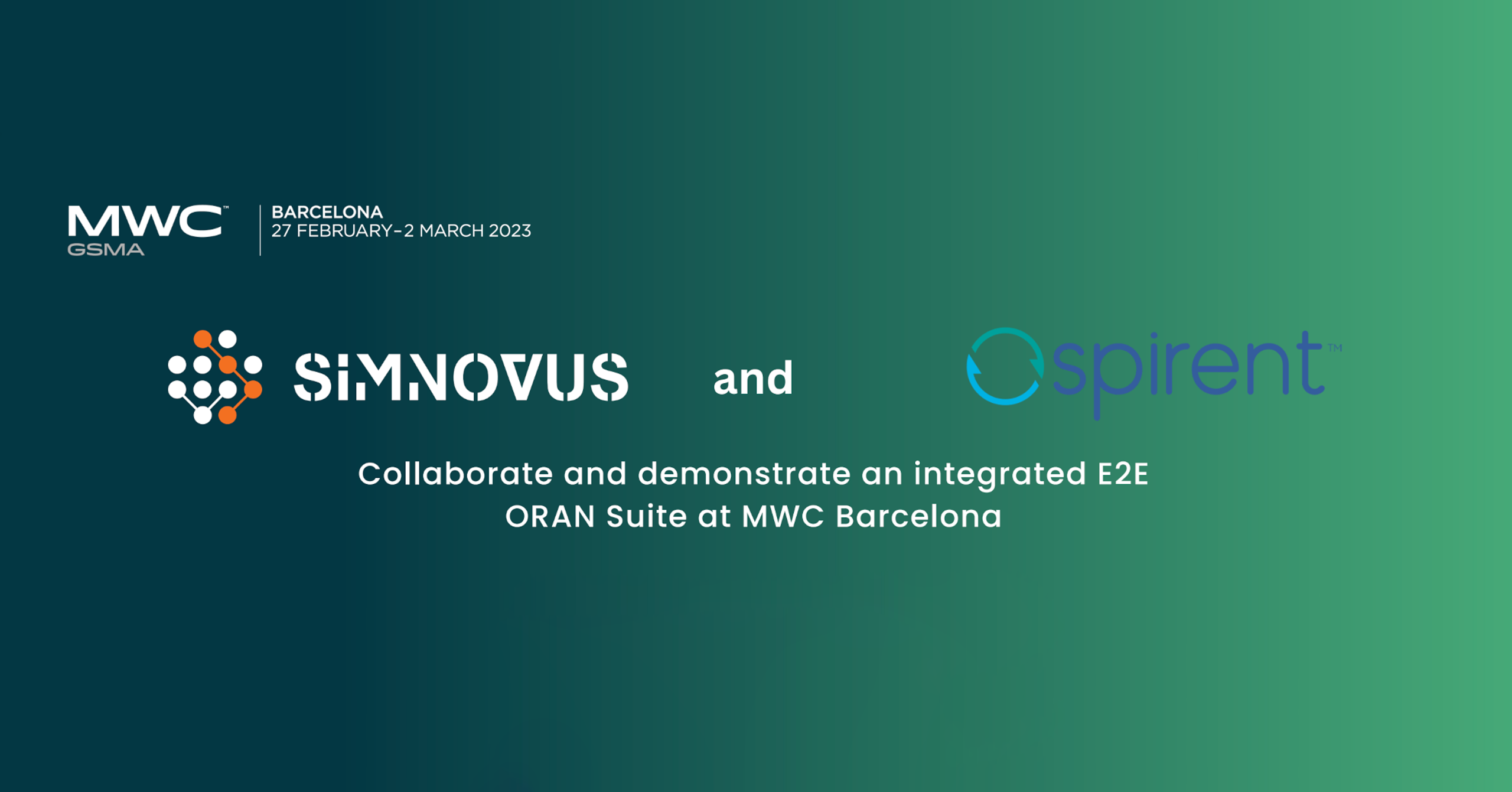 Simnovus and Spirent Collaboration
Simnovus, specialists in software-based validation tools for Radio Access Networks (RAN), will be part of a demonstration of Spirent Communications' new Open RAN end-to-end (E2E) testsolution at Mobile World Congress in Barcelona (February 27 – March 2, 2023). Spirent's industry-first solution utilizes the Simnovus 5G RAN User Equipment (UE) emulator as a component of its integrated E2E O-RAN suite.
End-to-end validation is vital to ensure the success of O-RAN, which many see as revolutionizing the way the next generation of wireless networks should be built and operated. But with the new approach comes significant new complexities, with multiple vendors and the need for seamless interoperability making end-to-end validation crucial.
Spirent has collaborated with Simnovus for some years, and its new end-to-end O-RAN solution integrates Simnovus's latest software-based UE emulator.
"We value our collaboration with Spirent in the mission to offer a cutting-edge end-to-end O-RAN solution to the industry," said Saurav Jha, CEO of Simnovus. "Our shared vision to bring comprehensive test and validation to O-RAN networks means Spirent's end-to-end solution will undoubtedly help accelerate the widespread acceptance of O-RAN technology."
James Kimery, VP of product management for Spirent Lifecycle Service Assurance, said: "Through our long working relationship with Simnovus, Spirent has capitalized on their software-based approach to delivering an industry-leading end-to-end portfolio of O-RAN solutions that meet and exceed our customers' expectations for O-RAN testing in terms of comprehensive test coverage, ease of use, unmatched repeatability, and ultimately faster time to market."
Simnovus' UE emulators can be easily deployed on COTS hardware allowing companies to set multiple test beds to run interoperability testing in parallel. Spirent's market-leading expertise in generating realistic user plane traffic, detailed analytics, and intuitive reporting ensures network issues can be quickly isolated. Spirent's new O-RAN solution will enable operators to emulate real-world network conditions to test and validate the performance and capabilities of O-RAN networks end-to-end before deployment.
For more information on Simnovus products, please visit www.simnovus.com. For information about Spirent, visit www.spirent.com.