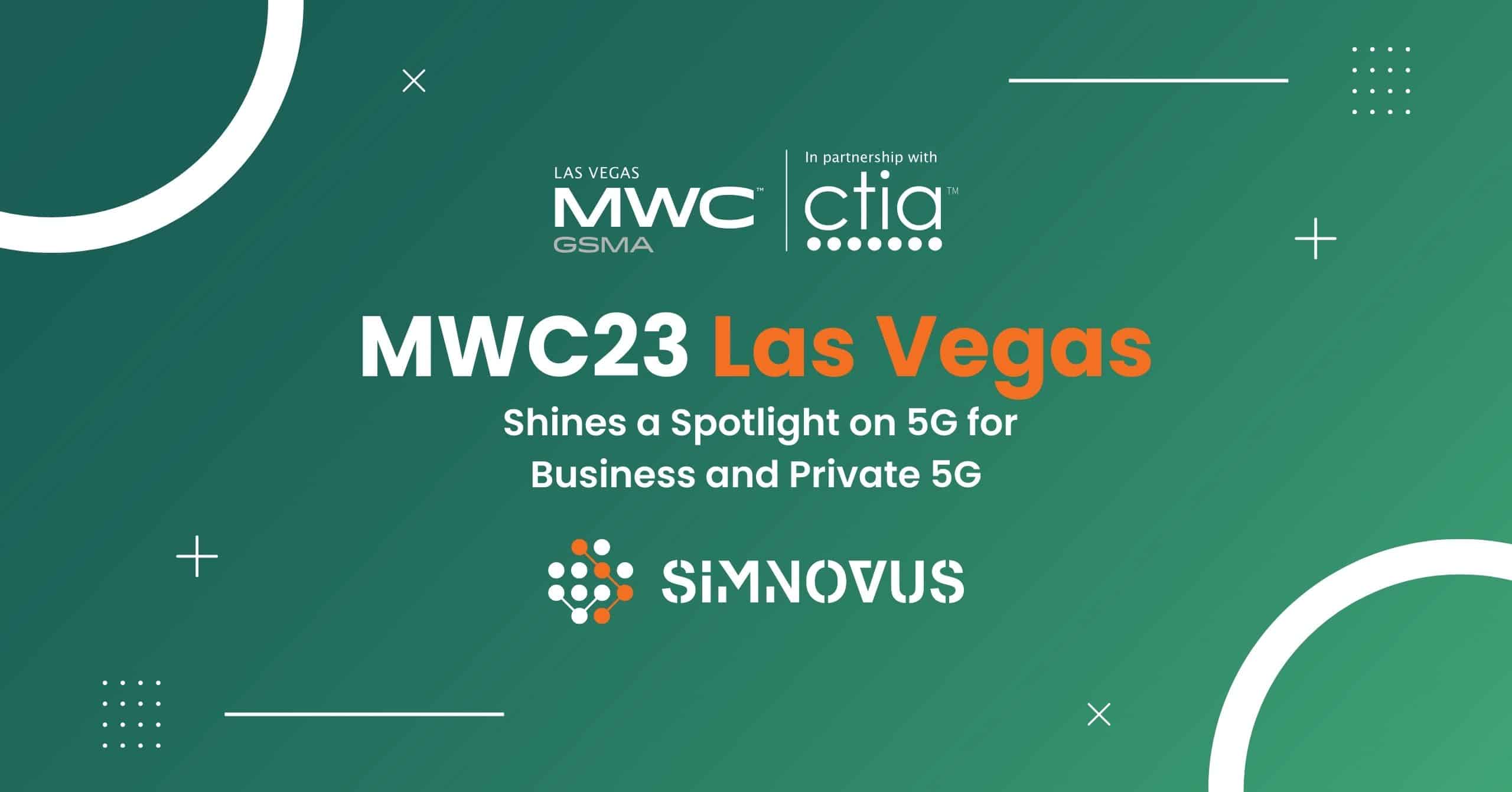 MWC23 Las Vegas Shines a Spotlight on 5G for Business and Private 5G
The bustling city of Las Vegas hosted the Mobile World Congress (MWC) 23, North America's largest and most influential connectivity event. This global tech extravaganza brought together industry leaders, innovators, and exhibitors from around the world. The event, which took place from September 26-28, 2023, showcased the latest advancements in the tech world and placed a strong emphasis on the burgeoning field of Private 5G networks.
A Pleasure to Connect:
MWC Las Vegas 2023 proved to be a remarkable platform for forging connections and building relationships among tech enthusiasts. Exhibitors and attendees alike expressed their pleasure in the opportunities the event provided to interact, network, and collaborate.
"The spirit of innovation and the camaraderie among attendees was truly remarkable," said Uday Parida, CTO of Simnovus. "It was a pleasure to connect with so many exhibitors pushing the boundaries of technology."
The Private 5G Revolution:
A prominent theme that resonated throughout MWC Las Vegas was the transformative potential of Private 5G networks. While all the major operators emphasized how 5G can empower the transformation of enterprises and how Fixed Wireless Access can help with faster rollouts, many big and small equipment manufacturers showcased their O-RU, O-DUs, O-CU, and Core Network suitable for private 5G rollouts. Private 5G promises to revolutionize industries by offering ultra-fast, low-latency, and highly secure connectivity. This technology is poised to drive innovation across sectors such as manufacturing, healthcare, transportation, and more.
Exhibitors showcased a myriad of applications for Private 5G. Industry leaders conducted presentations and panel discussions, highlighting the significance of Private 5G in shaping the future of connectivity.


Collaboration and Innovation:
MWC Las Vegas served as a breeding ground for collaboration and innovation. Companies and startups alike were eager to explore partnerships. With O-RAN and private 5G deployments, there is a growing need to ensure that multi-vendor integration is possible and faster. 
"Simnovus UE Simulator and O-RU Simulators are well positioned to accelerate this end-to-end validation," said Charles Thompson, Sales Director, North America. "We look forward to working closely with System Integrators who are the enablers in the faster rollouts of private 5G networks."
Looking Forward:
As MWC Las Vegas 2023 drew close, the tech world remained abuzz with the ideas, partnerships, and innovations born during the event. The focus on openness, Private 5G, and its potential to transform industries left attendees excited about the future of connectivity.
With each passing year, the Mobile World Congress in multiple locations around the globe cements its position as a vital event for the global telecom community. As we reflect on the event, we can only anticipate what groundbreaking technologies and collaborations the future editions of MWC will bring. Until then, we await the next chapter in the ever-evolving story of innovation and connectivity.